---
Apache at a crowded Port of Pembroke Dock on my return from a trip to Norfolk 21st August 2006




Just a glimpse of this floating crane in a very crowded dock...try to find a little information for you
---
Pauline in POP1 taken 16th August 2006


Nice set of the jack up Pauline in for maintenance pictures from Front Street and Western Way (Asda), also in the pictures the dredger Cardiff and the Ferry Isle of Inismore
---
UKD Bluefin

arrived and berthed at POP1 at 1036hrs.17th July 2007 she will be dredging in the Haven

UKD Bluefin is a purpose-designed trailing suction hopper dredger with many advanced features. Special attention has been paid to hull form and dredge-gear layout to enable this vessel to dredge in open-sea conditions while maintaining efficiency. She is fitted with twin suction pipes and pumps, jet pumps and de-gassing gear; underwater overflow is via an adjustable weir and she has the ability to discharge via bottom doors or pump ashore.
---
Clyde Fisher

arrived here with the help from his friends on Monday 10th June in the later afternoon




For a spec of her click here

PDF Format
---
RMAS Salmaid waits for Black Rover to leave 3rd July 2006




Then tied up on Carr Jetty for a very quick stop
---
RFA Black Rover

arrived 30th June 2006




Berthed on Carr Jetty....a reception is to be held in the Superintends House in the Dock Yard Saturday evening for the crew...our Mayor Councillor Sue Perkins will be in attendance....You can find more pictures on

Roberts Rambles
---
HMS Tyne

a quick turn around 0805hrs 5th June 2006




More by luck than judgement we caught her doing a quick turn off the Cambridge Tower (Tower Museum)...from the famous window...see we do start before the pubs open at lunch time
---
Buzzard...gets a high profile repair Port of Pembroke, Pembroke Dock 4th June 2006


A high risk, high lift job...yes taken from the doorway not the now famous window....would you like their job....... then back to work 0800hrs Monday 5th June 2006
---
Tug Tore arrives at Port of Pembroke 1535hrs 26th May 2006




We think she is here to take Rambiz on or around the 28th May.

---
Rambiz returns to POP1 early 23rd May 2006
http://www.herbosch-kiere.be/en/main.htm

This floating crane is working on the new terminals for the LNG Project in the Haven just west of Milford Haven...picture from the east end of Front Street
---
HMS Atherstone,

joined RFA Sir Galahad on Carr Jetty Saturday 20th May 2006

See the news item on the home page for details for the visit of her and her sister ships to the waterway plus a great threesome picture with the Sir Galahad, Atherstone and Inishmore from the bridge of Sir Galahad (pictures by Graham)

---
Royal Fleet Auxiliary Sir Galahad arrived on Thursday 18th May 2006

Whoops I was away in Norwich when she came....so thanks to Graham for the pictures....for more see Roberts Rambles

---
---
E3504 This floating/jack up Crane was edged in Sunday 7th May 2006 1115hrs with her tugs CHARLOTTE W and DINA M ....and left at 1615hrs the very same day




We think she's in for a quick bit of maintenance from the LNG development along the Haven at Milford Haven
---
HMS Tyne at Carr Jetty Port of Pembroke am 6th May 2006



A quick pic nicked from
the MPA web cam
Click to enlarge




This one borrowed from the Royal Navy

Built by Vosper Thorneycroft (UK) Ltd in Southampton under a five-year agreement, the ship is the first of the new River Class Offshore Patrol Vessels. Two-man teams conduct boarding's of fishing vessels, inspecting net sizes, weight of catches, fish sizes, composure of catches and the vessel's logbook and licence. Was here in April as well see below
---
Sentinel tied up to Salmaid on Carr Jetty 26th April 2006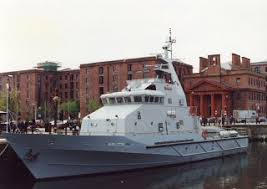 Sentinel 34m Island Class operated by HM Customs Built by Vosper Thorneycroft and Launched in 1993 designed to carry out a wide range of duties inc anti smuggling search and rescue and covert surveillance.

Is this the same ship........ whoops we go the wrong description of this one...must thank an ex captain of HMS Sentinel. Capt Ken Appleby.....
---
HMS Tyne

arrived on Carr Jetty 20th April 2006 returned


HMS Tyne (P281) is the first of the River Class offshore patrol vessels, built by Vosper Thorneycroft for the UK Royal Navy. Pictures taken from Hobbs point 21st April 2006 0754hrs
---
Working Barge and tugs (names to follow) from the now famous window 13th April 2006




Off to a position just north of Hobbs Point to place this experimental buoy, for the technical the mariners notice reads " MARINERS ARE HEREBY ADVISED that an experimental buoy is to be established in approximate position 51º42.13N º004 56.45'W (1.5 cables North of Hobbs Point) on or about 13th April 2006.

2. Mariners are advised to navigate in the area with caution. Due to the unique construction of this buoy there exists under water obstructions and Mariners should not approach closer than 20m.

3. The light characteristic is Fl Yellow 2.5 sec.

4. Admiralty chart 3275 and Imray C13 refer.

---
Bopohex sits and unloads, Port of Pembroke One, Pembroke Dock March 31st 2006




One of the three or four ships involved with the inport of pipes for the LNG plant....The ships have been coming and going all month

---
Arrives Port of Pembroke (Pembroke Dock) 1245hrs 21st March 2006...
Buzzard




This jack-Up returns to POP for maintenance she has been operating at South Hook on the LNG Project
---
MV Agility arriving in Pembroke Dock 1420hrs 9th. March 2006


---
City of Chichester

Just caught her on her way out lunchtime 4th March 2006




City of Chichester and City of Cardiff
Built in Appledore, Devon in 1997, these sister ships represent a total investment at the time of £19 million.

They replaced four ships which had previously worked off the South Coast and in the Bristol Channel and were designed to meet the particular constraints of small wharves and shallow draughts. Capable of two dredging trips in a typical day, the Cardiff and Chichester can load and discharge a full cargo of 2,300 tonnes of sand or gravel in under three hours.
---
MS Kaduna

she arrived and backed up to the Ferry terminal at 1647hrs. 24th. February 2006






Panama Flag with Polish crew she was built in 1972

---
This one snuck in around 1700hrs 12th February 2006...a busy day here

Boa Vista
I found this lot on a private site......to dark for a picture here so I borrowed one. I see she sailed from Marchwood....so I had a browse and found this.....so what did she bring to visit..................
Marchwood Military Port Marchwood Military Port (MMP) is situated on 289 acres of land on the western side of Southampton Water, opposite Southampton Docks. The port is operated by 17 Port and Maritime Regiment RLC whose role is to load and discharge service or civilian shipping in support of military administration, exercises and operations world wide. The site is the sole military port in U.K. and provides the training ground for Army port and maritime personnel. It is the home port for the Royal Fleet Auxiliary (RFA) Landing Ship Logistic (LSL) and army vessels run by the Royal Logistic Corps (RLC). In addition, HQ Solent Station and 17 Port and Maritime Regt Wksp REME are based there.
Scope Of Activity The port consists of three main jetties. The largest is 220m long and 33m wide and is capable of accepting vessels up to 16,000 tonnes. It has a sophisticated Ro/Ro facility capable of handling vessels with various ramp configurations, and the jetty also has two 35-tonne rail mounted cranes and railway access. The second jetty, built during World War II, is 190m long, has rail access and is capable of accepting vessels of up to 8k tonnes with limited Ro/Ro facilities. Finally there is a subsidiary jetty of 117m that is used to berth military landing craft and smaller vessels. Of major importance is the ports ammunition and explosives handling capability. The Directorate of Land Service Ammunition (DLSA) has granted the port a licence to handle ammunition/explosive on the main jetty. Typically the port will handle 100k tonnes of military material a year.
Her history is quit interesting as well...I knew her from my life in the 80s

Boa Vista (2001-2004) - KystLink
Bonavista (1999-2001)
Normandie Shipper (1995-1999)
Normandie Shipper (1989-1995) - Truckline Ferries
Kirk Shipper (1988-1989)
Stena Shipper (1988)
Caribe Express (1987-1988)
Speedlink Vanguard (1984-1987) - Sealink British Ferries
Speedlink Vanguard (1981-1984) - Sealink UK
Stena Shipper (1980-1981)
Alpha Express (1976-1980) - Aghiris Navigation
Union Wellington (1975-1976)
Union Wellington (1973-1975) - Union Steamship
Stena Shipper (1973)

---
Entered the harbour at 1320hrs 12th. February 2006 after her annual dry dock refit


Isle of Inishmore

We also noted her change of registration it seems she is now registered in Limassol Cyprus
The team will keep one eye out of the window and try to report and photograph the first SCRATCH on the bright new paintwork....so watch this space,

She left at 1530hrs...and opps the other side is a right mess...bits painted but rust marks all over....what a shame
.
---
Steamed in at 1215hrs 12th. February 2006 to moor at POP1 Pembroke Dock


VORONEZH




Motor ships of the type DON or AKSAY (project PR-205) are the big dry cargo "river-sea" ships, which have a covered hold, with double boards and double bottom, with machine compartment and superstructure in the rear part, equipped with lifting wheel-house, with the single propeller shaft. Ships are intended basically for carrying of general cargoes, containers and timber. Ships have big sea draught and have to be partially unloaded for passing the inland waterways.
---
This visit comes just after the announcement of the closure of HM Dock Yard Pembroke Dock. she is moored next to the Salmoor (A185) on Carr Jetty
---
---
This strange pair arrived 26th January 2006
Lynher II and Kingston (Tug)


It would seem from my research that the ferry is on its way to Cornwall to be delivered to Torpoint Ferries.
The Torpoint Ferries are one of the main transport links between Devon (Plymouth) and Cornwall (Torpoint). they operate three chain driven ferries ( floating bridge) , the Plym , the Lynher II (on its way now) and the Tamar , which provide passengers with a 10 minute service from both sides of the river Tamar. The majority of the passengers are commuters travelling to and from work however these numbers swell during holiday periods with the addition of tourists visiting Cornwall. With the introduction of the new generation of ferries. "It was anticipated a ceremony would take place in May/June 2006 and it was hoped that a VIP would be able to attend to officiate. Members suggested Mount Edgcumbe as a possible venue for the reception and requested that the General Manager pursue this option." (Quoted from the Cornwall Council Minutes on the expected delivery of this the last of the new ferries). Built on the Clyde by Ferguson Shipbuilders Port Glasgow, in 2005
Ship Type: Chain Ferry Capacity for 73 cars.
Ship's Role: Tamar Ferry
Owner History:
Tamar Bridge and Torpoint Ferry Joint Committee
---
Seen arriving 11.40hrs 19th January 2006 Port of Pembroke, Pembroke Dock
Skerchi with the tug

Smit Bever






Trying to find info...you can click to enlarge this picture it is believed the barge is owned and operated by Ascon Construction Ireland
---
This one arrived early Thursday 12th January 2006... reported to be leaving 15th January
Cumbrian Fisher

Temp picture...borrowed

James Fisher & Sons plc, one of the UK's leading marine services providers, announces that it has launched a new tanker, the Cumbrian Fisher, in the Samho Shipbuilding Company Ltd in Korea. The vessel, a clean product/chemical carrier
---
First visit Monday 9th January 2006
Normandy


The Normandy is on the route while the

Isle of Inishmore

is in dry dock for its annual refit
---
This one is here twice a day...well almost


Isle of Inishmore




Built in Rotterdam, the Isle of Inishmore took 15 months to construct at a cost of €80 million and, before the arrival of Ulysses, was North West Europe's largest, most well equipped and most modern car ferry. It entered service on 4th October 1996 on the Dublin-Holyhead route and began service on the Rosslare-Pembroke route in 2001
---